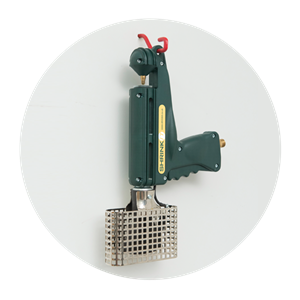 Our shrink gun is extremely reliable, easy to operate, economical, safe and competitively priced. We are proud to design and manufacture our market leading shrink-wrap gun completely in Britain.
You may have seen our product sold under various names, as we produce these for a variety of different companies.

On this website, you will find details of our Newest model design No: CD 0 878 236 If at any time you would like to find out more please contact us.
ShrinKit Limited was established in 1980, formerly Michael Greengrass Developments, to design and manufacture propane hand held gas burners to be used in shrink wrapping of polythene pallet covers.
We are a family business located just outside Norwich, Norfolk, England. Before becoming involved in shrink wrapping Michael Greengrass spent many years designing machines for laminating polythene onto wire mesh, these machines were installed around the world including the U.S.A at Keystone Wire, Illinois.
Since 2000 when the company changed its name, to ShrinKit Ltd, Michael semi-retired and his son Mark took over the reins, Mark joined the company straight from school in 1981 and has worked in all aspects of running the company to reach company director.
As from 1st August 2016 another family member has joined the company, Alex Forrow is now business manager, Alex has spent the majority of his working career in marketing and engineering and will bring a wealth of experience to the company and is looking forward to working within this industry.
We sell our systems through various distributors across the UK, Europe and the rest of the world. Our distributors include BPI Packaging Services, Cromwell Group, Kite Packaging,  Packline Solutions (Australia), Polytec-vreden (Germany), MC Emballage (Denmark) and our latest company to join the ShrinKit distributor team is Amassed Enterprise (Malaysia/Singapore).
We are always looking for opportunities to expand our business and increase sales outlets,
if you are interested in working with us, please get in touch.