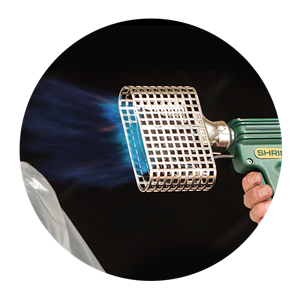 Customer in the Timber Industry
Director

We have had the gun for 5 or 6 years and it has performed well with every day use shrink-wrapping 30-40 pallets a day!
Not that hard to repair when you know where to find the parts.
Customer in the Hot Tub Industry
Director

Works like a dream! Couldn't do without it.
Customer in the Cleaning Industry
Director

We use your shrink gun every day and it is still working extremely well. I cannot believe we bought it as far back as 2009! Good product.
Customer in the Concrete Industry
Managing Director

An excellent piece of kit. Quick, easy to use and robust. I have had it for 4 years and dropped it more times than I care to remember and it keeps working!
Being able to hang it up by the eyelet is far better than hanging by hose like my previous ones and ticks several Health and Safety boxes too.
Customer in the Manufacturing Industry
Manager

This is an excellent tool and has been in use for about 4 years now in our packing department for shrink-wrapping scientific instruments.
Customer in the Freight Industry
Supervisor

We have been using the "ShrinKit" Gas burner, in conjunction with polyethylene bags, successfully for the past two years. It is generally used for the wrapping of ceramic bathroom ware. The nature of the product relies on the goods being tightly packed for transportation and the way that the ShrinKit gas burner melts the polyethylene bags to mould around the product means that we have limited damage to Our Clients products.
The Gas Burner, once regularly maintained and oiled has been very reliable.
Customer in the Construction Industry
Engineer

The shrink guns are great. We are not always sending them for repair or replacements. They are very good value for money.
Customer in the Concrete Industry
Design Engineer

We are very pleased with the quality of ShrinKit gas guns, and they have made a huge improvement to our operating efficiency. They have a full range of reasonably priced spare parts – although we haven't had to make use of this as they have been perfectly reliable, despite daily use!
Customer in the Engineering Industry
Business Manager

Fantastic purchase in 2005, extremely reliable product, excellent value and still going strong today!
Customer in the Packaging Industry
Manager
We have been using ShrinKit guns for over three years in all type of conditions and they have never let us down. The ShrinKit gun is robust, reliable and light weight. Also, the service from ShrinKit is very good.