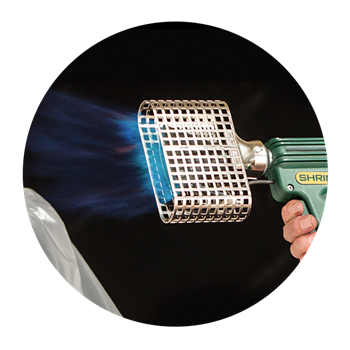 The following topics will be covered:

Area of use
Area preparation
Being aware of the operating instructions prior to use
Maintenance of equipment
The correct method of switching on gas supply, and checking for leaks
More importantly turning off gas supply after use
Suitable attire
Full instruction in the correct method of handling shrink guns when wrapping, to ensure the efficient wrapping of products.
The Training can take place at your preferred site, by one of our personnel, who collectively have over 50 years' experience in this field.

Once training is completed successfully, to the satisfaction of all concerned. We will issue a certificate see above, either to the individuals trained or to the company as a whole (this is included in the price).

Prices start from only £250.00 plus travel, and accommodation (if required). ShrinKit Ltd reserves the right to cancel or withdraw this offer at any time without prior notice.

For further information on prices and availability, please contact us.
As part of general safe usage of the ShrinKit heatgun please take the time to fill out our risk assessment form as well as ensuring that you continually follow our safe Method of Operation checklist.