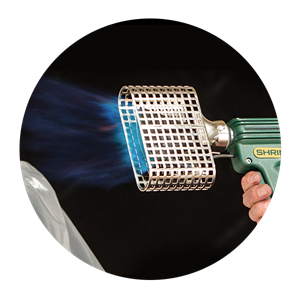 Technical Data
Fuel
Propane Vapour
Fuel Container
Industrial Gas Bottle
Ignition
Piezo Crystal
Burner Safety

Dead Man's Handle

Regulator

Excess failure valve

Power Output
32Kw ( 110000 btu / h )
Gas Pressure
3.5 bars (50 PSI )
Length
380mm ( 14.96 inch )
Weight
1080g ( 2.38lb )
Sound Level
85.2 dBA ( Avg )
Hose Length
8 metres ( 26 feet )
Maintenance
Occasional Drop of Oil as Supplied
Gas Heat Shrink Guns are excluded from EU Gas Appliances Directive 90/396/EEC and the Gas Appliances (Safety) Regulations 1995. Our products meet the requirements of EN 746-1:1997+A1:2009, EN 746-2:2010, the General Products Safety Directive, and the Essential Requirements of the Gas Safety Directive. A detailed Technical File is available upon request.