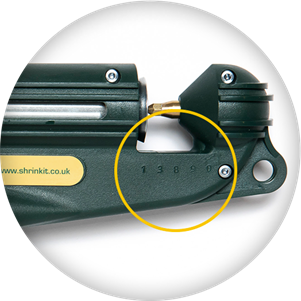 Your ShrinKit heat gun has been manufactured with great care and attention using quality materials. Tests and inspections have been carried out during the gun's production. For all service, repair work, spare parts and accessories please contact ShrinKit Ltd.
Warranty of operation for 12 months from date of purchase on all parts and labour under the following conditions:
That the operation of the ShrinKit gun complies with the user guide and instructions.
That the ShrinKit heat gun has not been dismantled or tampered with.
That the ShrinKit heat gun is physically intact. The handle, cowl, burner and trigger must not have been mistreated or deformed in any way.
The thread of all fittings must be intact.
All replacement parts must be original ShrinKit spare parts.
ShrinKit shall not be held responsible for any accidents, including persons or goods, which arise from incorrect usage, or failure to comply to any instructions, safety warnings, user guide or Risk Assessment and Method Statement Document.
Please quote the ShrinKit gun serial / identification number which can be found on the handle for all warranty enquiries.